DocHub simplifies PDF editing, signing, document sharing, and form completion, making it easy for anyone to get their documents done from anywhere.
To get started, sign up with DocHub. Registering an account is quick and easy. No downloads or credit cards required. Once signed up, you will be redirected to your Dashboard.
Dashboard
The Dashboard displays all DocHub functionality and your data. From the Dashboard, you can access incoming and sent documents, view existing documents and templates, create new ones, and more.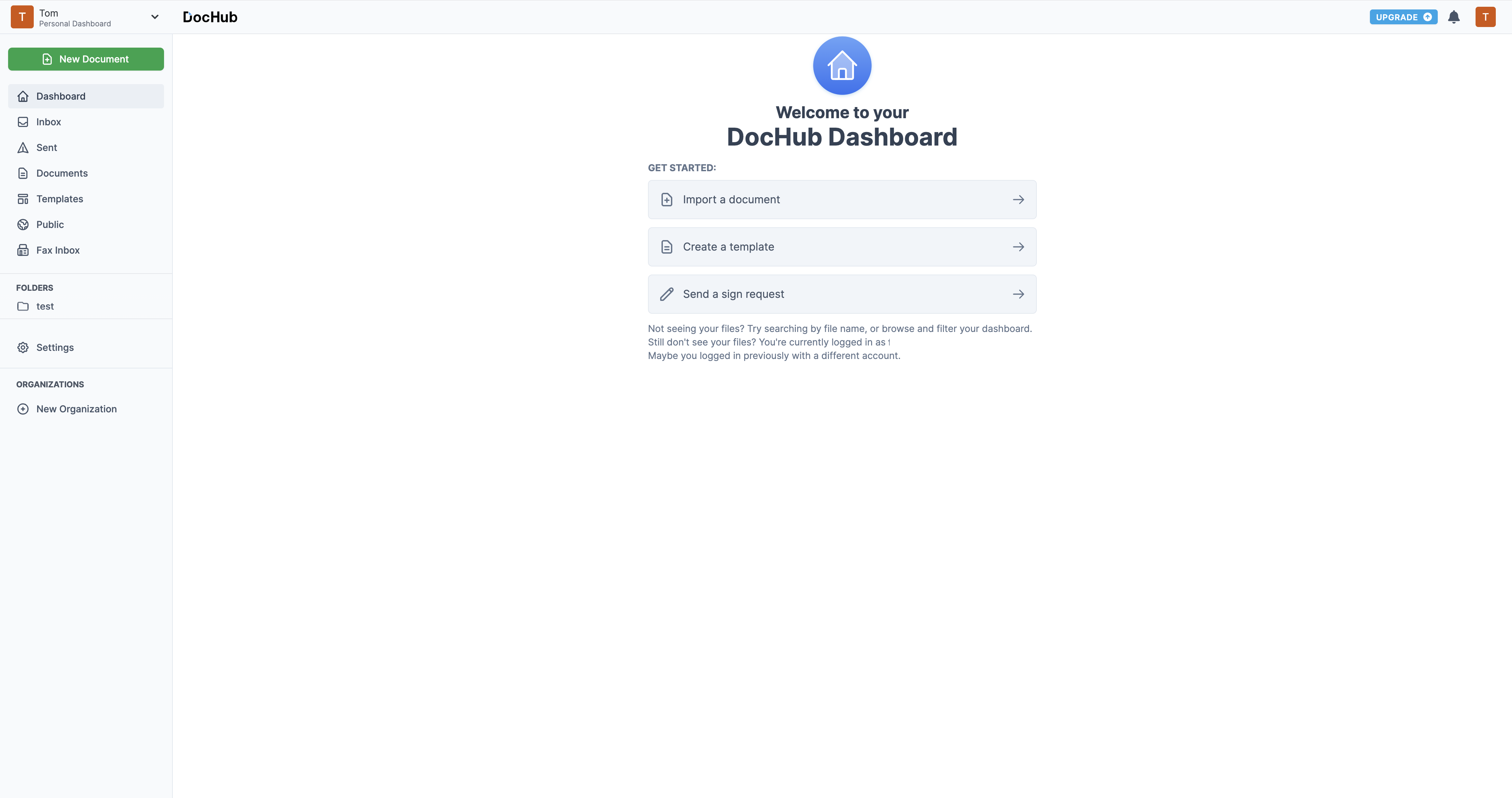 Create new document
DocHub offers multiple ways to add new documents to your account. From your Dashboard, click New Document in the upper left corner. You can import a document from the cloud, copy its URL from the web, use an existing document from your DocHub account, or upload one from your computer. If you prefer to create a document from scratch, click Create Blank Document.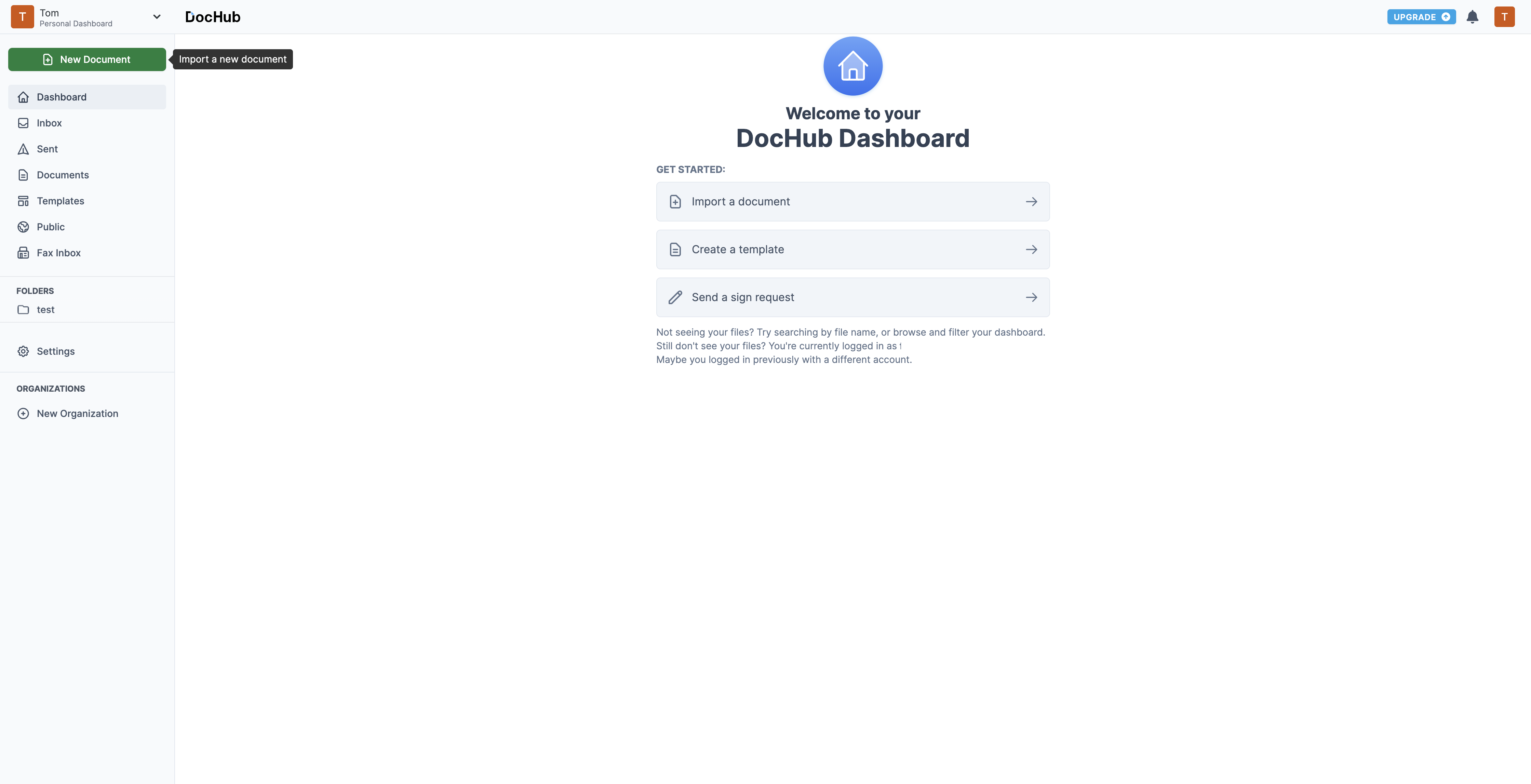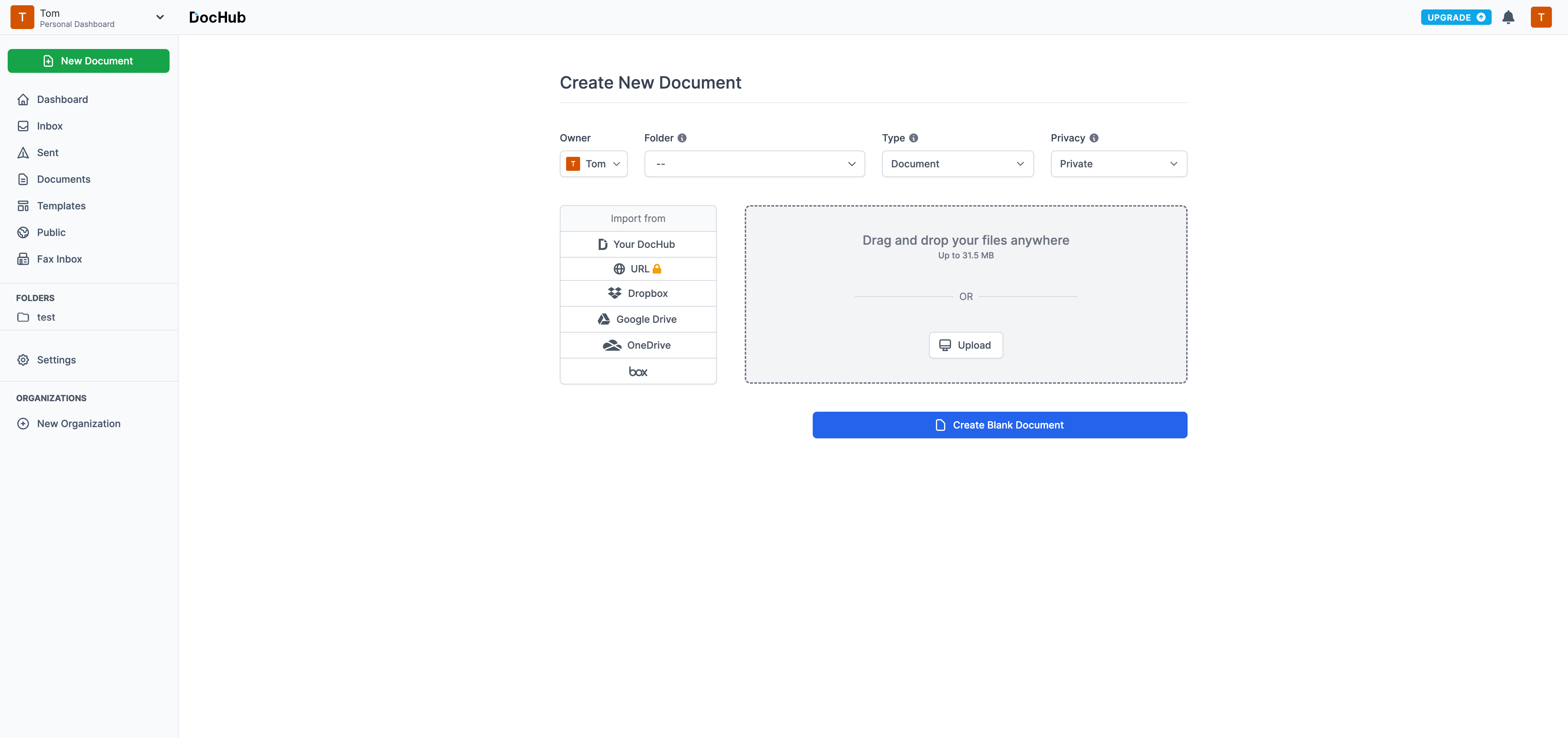 Edit and annotate PDF
With the DocHub editor, you can add text, images, shapes, and drawings anywhere on a document. There is also a variety of annotation tools that you can use to add comments, highlight important information, strike out unnecessary data, or white out confidential details. Reorganize your document by adding, rearranging, deleting, or merging pages in just a few clicks.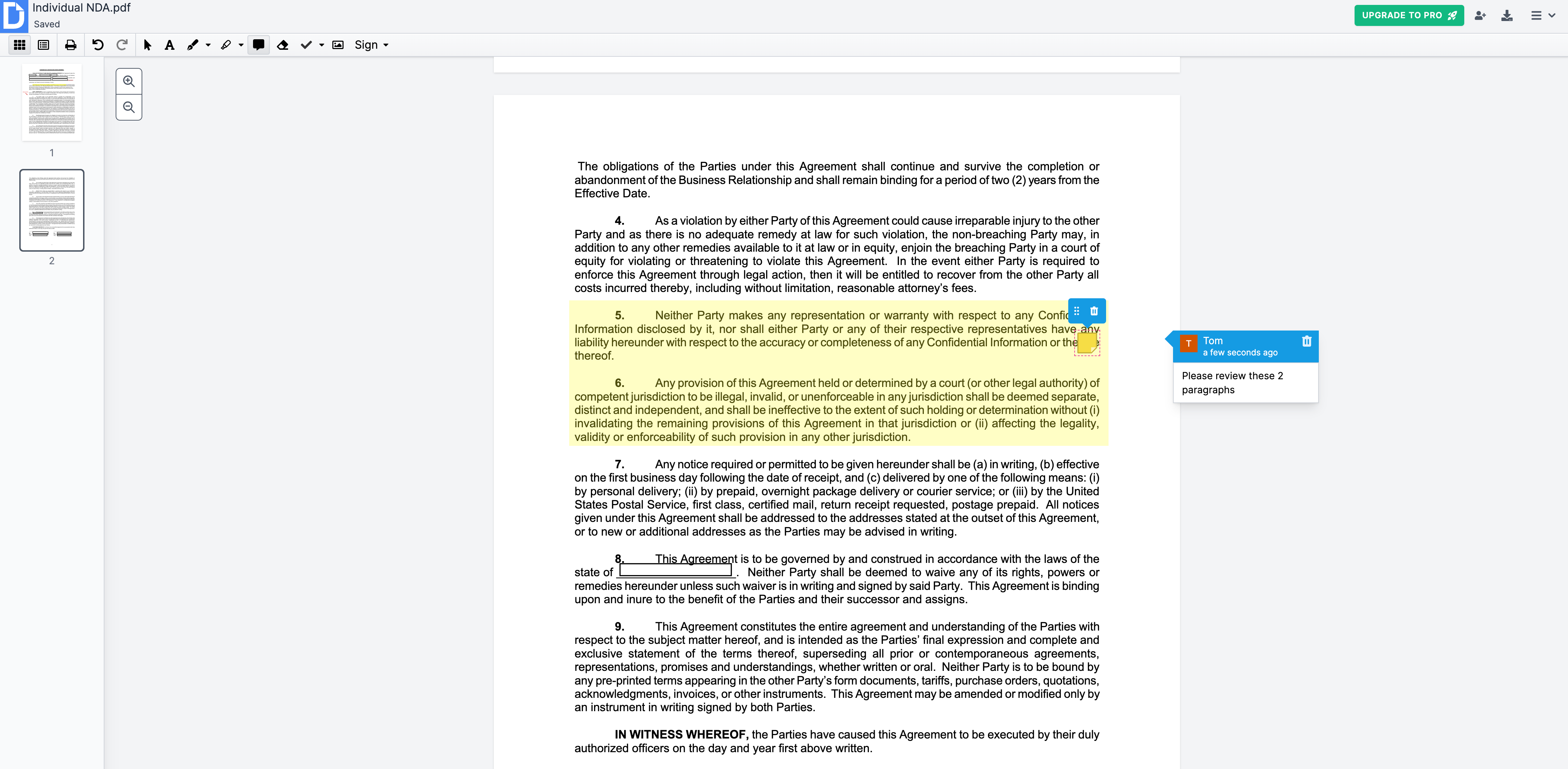 Collaborate and share PDF
With DocHub, sharing and collaborating on documents is easy. Select Share or send from the dropdown and choose the option that works best for you. You can restrict access to your document by setting specific user permissions or by making your document public. When all is set, send your document as an email attachment, shareable link, or fax.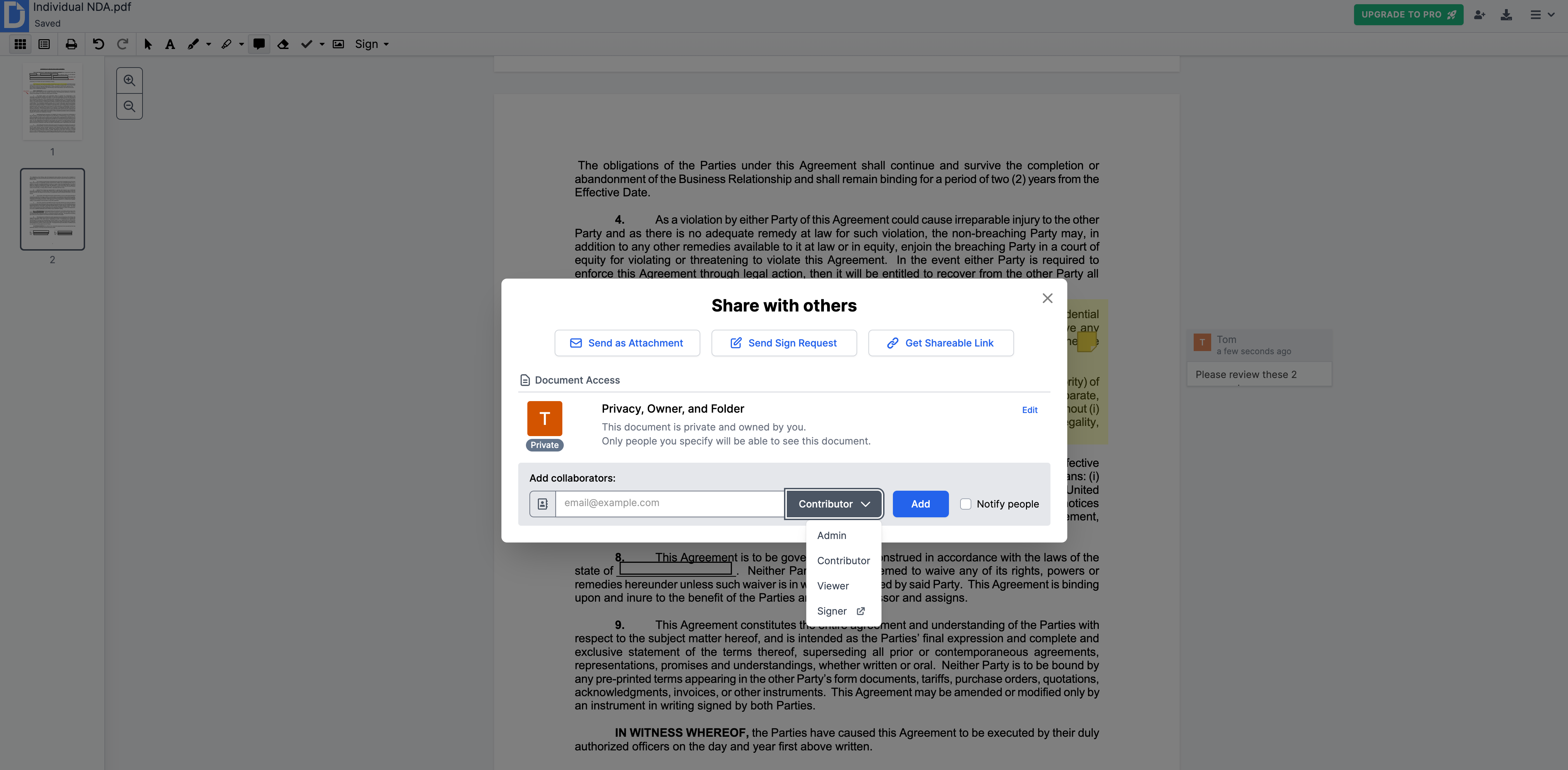 Sign and send a document
Signing a PDF with DocHub is safe, intuitive, and fast. Click the Sign button in the upper toolbar and select Create your signature. You can type, upload an image of your signature, or draw one using your phone.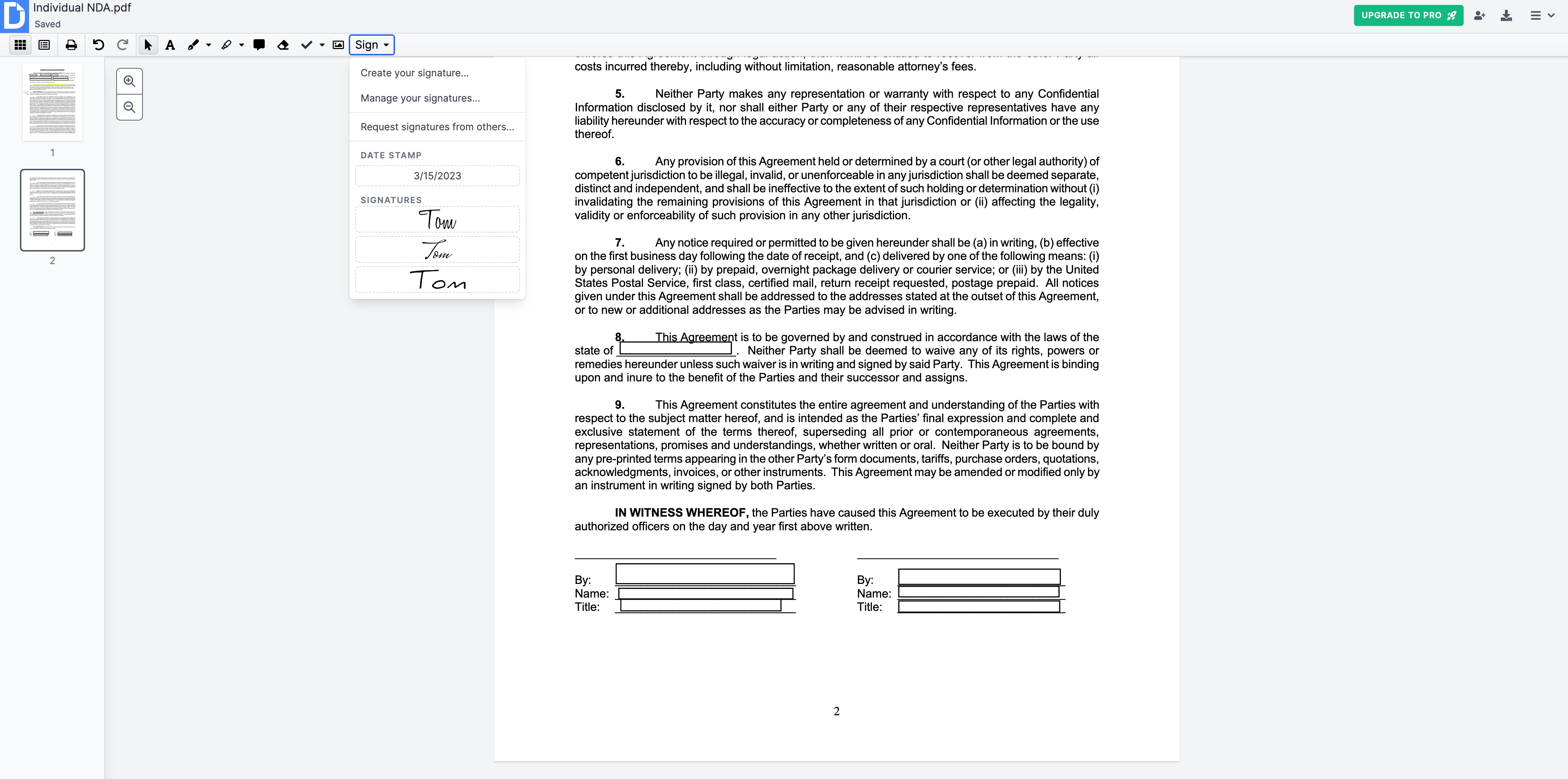 If you need someone else to sign your document, simply add a signature field to your document and assign a recipient to this field via the left sidebar.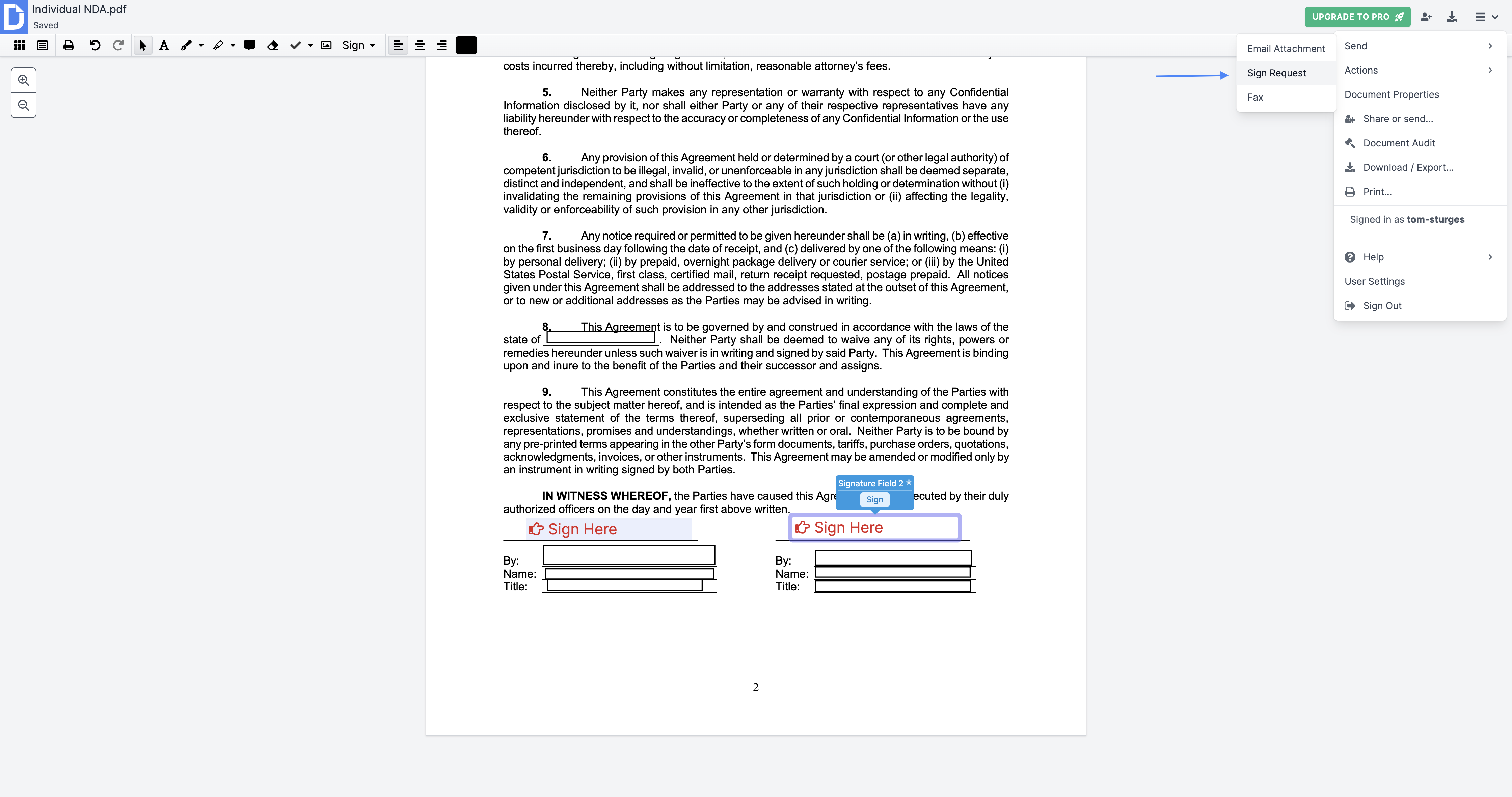 Select Send from the dropdown and add the signers' email addresses to create a signature request. Next, define who gets the finalized copy and set automated reminders and an expiration date if needed. Then, click Send Request.
Export or download document
If you need to download a document or keep it in the cloud, you can do so in a few clicks with DocHub. Select the Download/Export option from the dropdown on the right and choose how and where you'd like to save your document.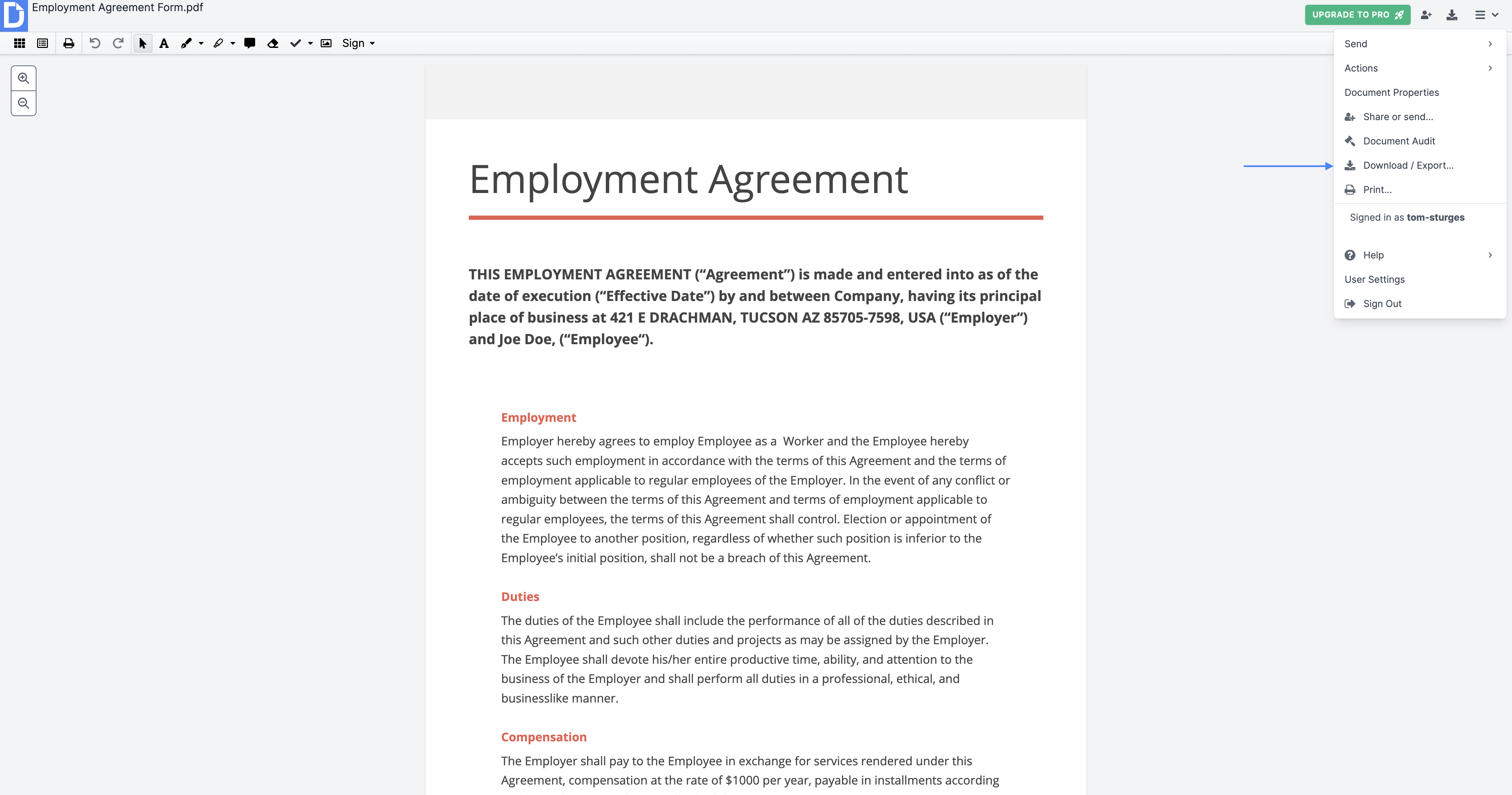 You can export your document's current or original version, password-protect it, and more. Save your PDF to Google Drive, OneDrive, Dropbox, Google Classroom, or your computer.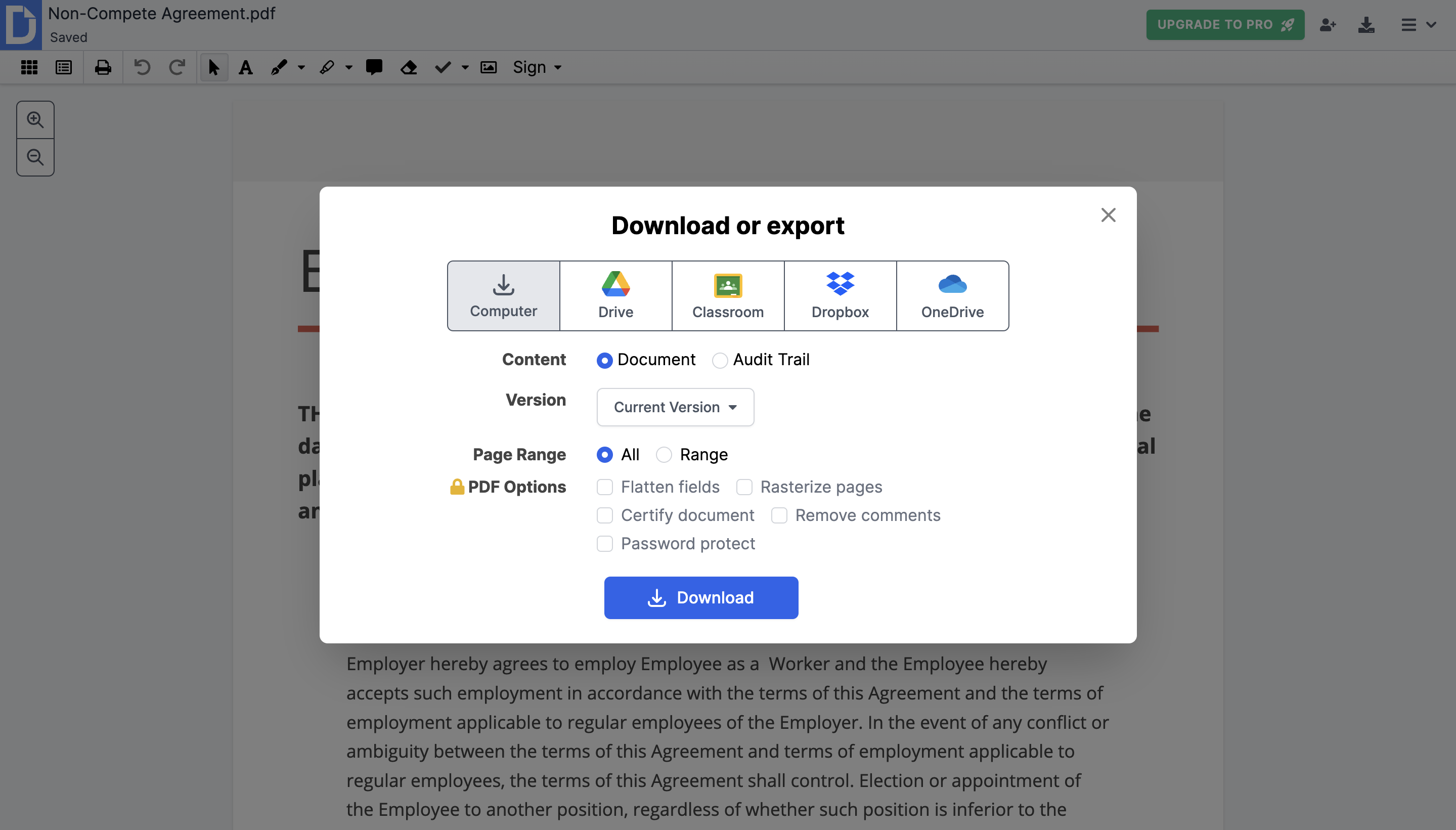 DocHub functionality overview
DocHub offers advanced functionality to help you simplify the way you work on documents. Edit, sign, and send documents or build and share forms from anywhere using your desktop or mobile device.
PDF Creator
Easily create a PDF from scratch or upload a file from your desktop, mobile device, or cloud storage to add text, images, drawings, and more.
PDF editor and annotation tools
Modify PDF documents in any way you need. Highlight or underline important information or white out confidential details. You can also add shapes and drawings, or leave a sticky note with a comment anywhere on a document.
Page manager
DocHub provides thumbnails for all pages in your documents so you can easily rotate, rearrange, or delete pages. You can even create a new document by adding a blank page, an image, or an entire PDF and merging them with a click.
PDF forms
Use the field manager to turn your static PDF into a dynamic fillable form. Simply drag and drop the fields for text, signature, initials, date, and checkboxes, then specify who should complete a specific field. To collect important information, mark the fields as required. You can easily replace fields when needed or remove them.
Templates
Turn your most-used documents into reusable templates so you don't have to create a new document from scratch. Customize your template just as you would your regular document. Add fields, text, and annotations. Every time you change a template or share it with someone to complete, a new copy is created. All template copies are stored under one master template.
Form publishing
If you need to collect data from multiple people, send your form template via a shareable link or paste it on a website. You can also make your form public; it will appear in online search engines and on your Public Page so that anyone can view it.
Electronic signature
With DocHub, you can add your electronic signature in seconds. Signing PDFs is simple. You can type, upload an image of your signature, or draw one using your phone. For your convenience, you can set your signature as default and use it whenever you need to sign a document.
Multiple signer workflow
You can collect multiple signatures in minutes using DocHub. Simply specify who needs to sign, where, and in which order. Send automated reminders so recipients remember to sign a document. Once it's signed, you will receive an email notification.
Document sharing and collaboration
DocHub offers multiple ways to share your document. Set role-based access permissions to let others view or edit your document, make it public, or send it via a shareable link. You can also send your document as an email attachment or via fax. If you don't need to share your document, you can download it, print it out, or export it to the cloud.
Organizations
Create organizations to securely send and collaborate on documents and templates within your team. You can set up a business or academic organization and define specific user roles within each organization. Just like in your personal profile, you can upload documents and create templates within your organization and securely manage them with your team members.
Document security
With DocHub, your data and documents are protected by multiple layers of security. Two-factor authentication ensures that only you have access to your account. Password protection allows you to customize access when sharing documents. The Audit trail records all changes made in a document.