Signing from the "Sign" menu
If you need to self-sign a document, the easiest way is to drag a signature from your "Sign" menu on to your document.
Tip: on some browsers, you need to click to toggle the tool on, and click again on the document to place the signature (rather than drag and drop).

Creating signature fields

Adding signers and requesting signatures from others.
If you need someone else to sign a document, then you need to add a signature field.
To add a signature field, toggle the "Field Manager" tool in the top left of the toolbar. Once field manager is activated, you'll see additional field tools.
Place a "Signature Field" on your document where the other signer(s) need will need to sign.
After placing the "Signature Field, assign it to a signer from the right-panel.
If the signature field is required, then (while the signature field is selected) check the "required" checkbox in the right-panel > fields.
Once you have assigned the fields to their designated signers, click "Send as Sign Request," follow the instructions in the dialog, and then click "Send Request."

Creating or uploading a signature
Whether self-signing or completing a signature field, there are four ways to create signatures in your DocHub.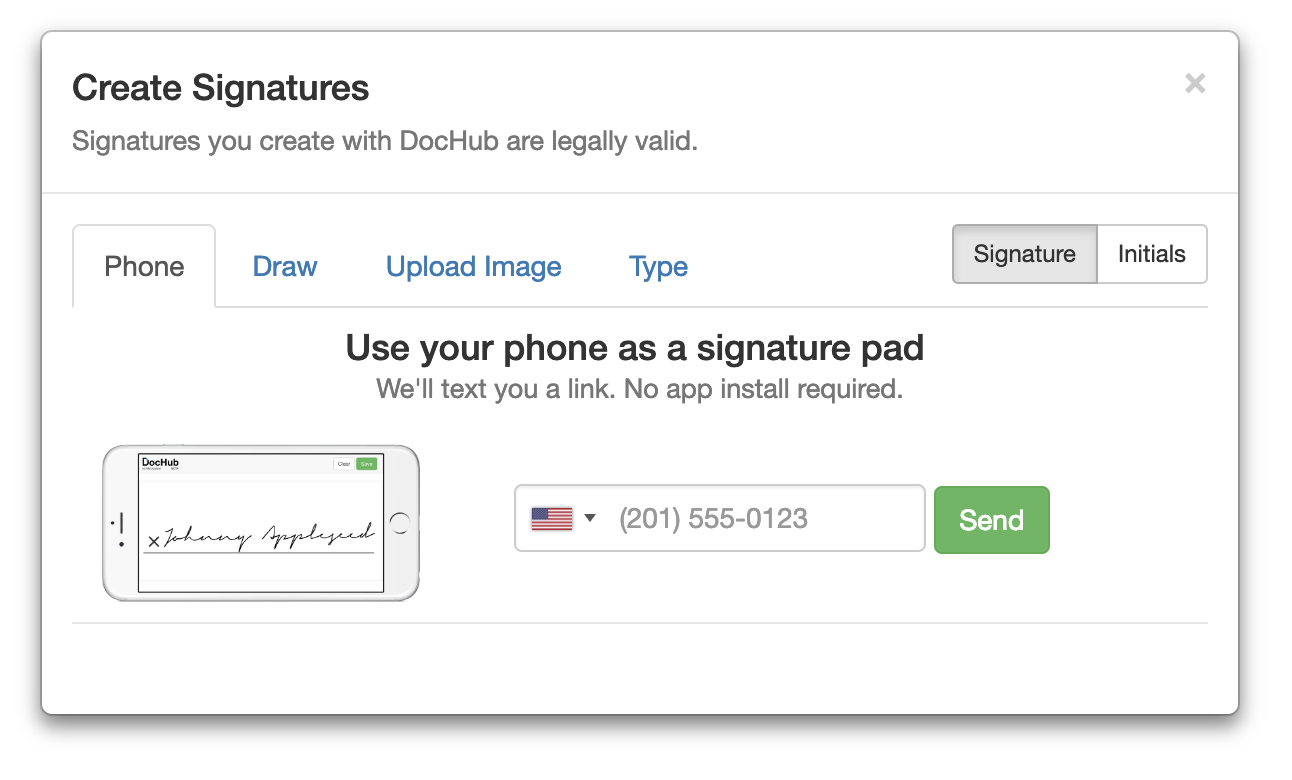 1. Phone [recommended]
Use your phone as a signature pad to get the most accurate and pretty digital signature. We'll store it as a vector so it'll be lossless when resizing and you can manipulate its color and thickness after it's created.
2. Draw
If you're good with your mouse or trackpad - or need a hand drawn signature, this option is for you. Similar to the "Phone" technique, these signatures are saved as vectors.
3. Upload Image
If you have a saved signature on your computer that you want to use, you can upload it.
4. Type
If you don't need a hand drawn signature, you can select a font-based signature from several hand writing and classic style fonts.