This article provides an overview of how to share or send documents from DocHub. Techniques to share or send your document include the following:
In addition to these techniques for sharing and sending, documents can be downloaded and exported. Download and export features are covered in this article: Download or export your edited or signed PDF
Accessing Share Settings
From your Dashboard (dochub.com)
Share settings can be accessed from your DocHub dashboard by right-clicking any document, then selecting "Share or Send."

While viewing a Document
Share settings can be accessed while viewing a document by either clicking the "

" button or Menu > "Share or Send..."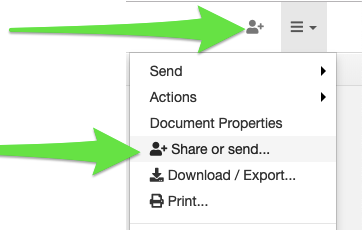 Once opened, you should see a modal similar to this one: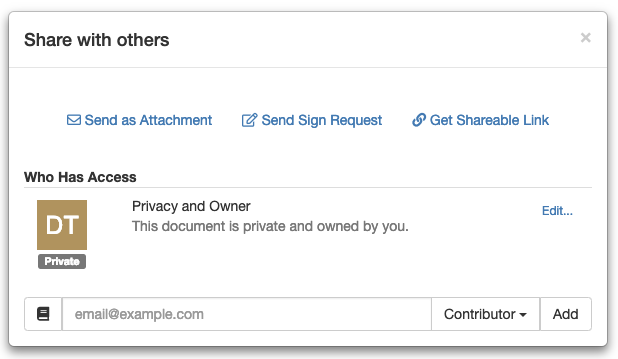 Add user permissions
User permissions can be created or modified from the Share or Send dialog. User permissions allow you to add permissions to a specific document for a specific user (email) to access within DocHub for review or collaboration. It's not meant for requesting signature from a signer. For e-signatures, scroll down to Add a signer and send a "Sign Request"

The main privileges granted by the various permission levels are as follows:
| | | | |
| --- | --- | --- | --- |
| | Admin | Contributor | Viewer |
| Can view, copy or download document | ✅ | ✅ | ✅ |
| Can add/modify/delete content | ✅ | ✅ | |
| Can rename/edit title/destroy document | ✅ | | |
| Can add/modify permissions for other users | ✅ | | |
| Can add/remove Share-Link | ✅ | | |
The "Add collaborators" feature has the following limits:
Free - 5 collaborators per document.
Pro - 30 collaborators per document.
Add a signer and send a "Sign Request"
If you need someone to sign a document, then you need to add the user as a "Signer" from the "Send Sign Request" modal for a template or the Fields Manager for a regular document: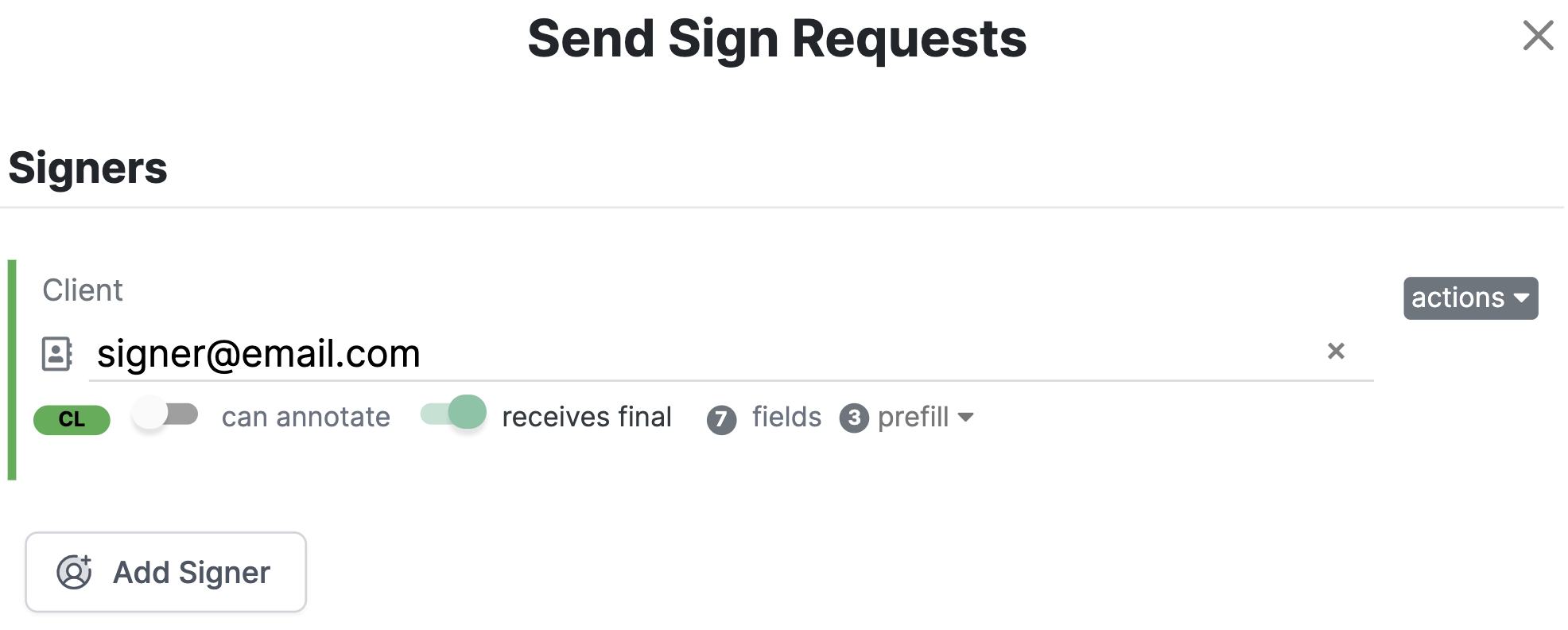 Unlike standard user permissions, the Signer permission involves the Sign Request workflow and life cycle which includes an instant authentication link sent to the signers via email, user verification features, enhanced audit trail, and more.
You also need to add fields using Fields Manager and assign them to the signer(s) before sending.
To learn more about Sign Requests, see these articles:
Sign Requests: Getting Started
Creating and sending a document as a Sign Request
Share within a DocHub organization or team
You can share a document with your team or a group of users by setting the permission setting for document "Owner" to an organization. If you don't already have an organization, follow the steps here to create one and add team members: Creating a DocHub Organization.
Once you have an organization created, toggle the "Edit..." button next to "Privacy and Owner."

You should see the option to change the document's owner to the organization from within the owner dropdown.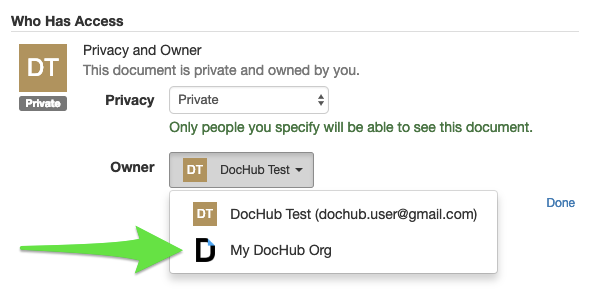 Once the document is owned by the organization, its members will have access to the document as dictated by the person's role in the organization and the document's Privacy setting.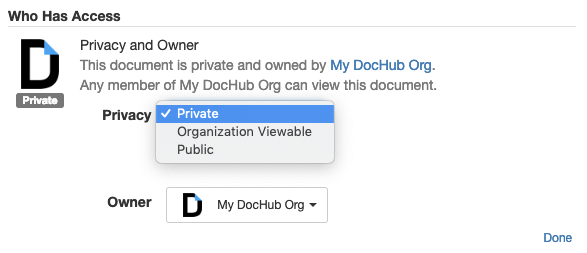 Organization members with the organization roles of Owner, Admin, Content Manager or Teacher can view and edit all documents within the organization.
Organization members with the roles of Agent or Student can only view documents in the organization when the document Privacy setting is set to Organization Viewable or Public.
To learn more, see these articles:
Organization Roles and Permissions
Transfer documents between your account and organization
Set privacy to "Public"
If you want to share your document on a website or in group email and the document doesn't contain sensitive content, then you may consider making a document Public. To make a document public, open the Share or Send dialog, then toggle the "Edit..." button next to Privacy and Owner, then select the Privacy setting "Public."


To learn more, see: Share your PDF via Share Link or Public URL
Public documents can be viewed (but not edited) by anyone on the Internet, and if it's a template with form fields, visitors can fill their own copy.
Your public documents will appear on your personal or organization's public page. To see what your public page looks like as the outside world would, click on the Public section on the left side of your Dashboard:

To learn more about using a public link to ask people to visit and sign a copy of one of your templates, see: Publish a PDF form to a webpage for anyone to sign & fill out
Create a Share Link
A DocHub Share Link is created by clicking "Get Shareable Link" from the Share or Send dialog. A Share-Link allows anyone with the URL to view, download or copy the document or template. Only users with Admin privileges can manage a Share-Link.



A DocHub Share-Link is similar to setting a document's privacy to Public, except that:
The document will not appear on your public page
The document cannot be found by search engines
Only people with the share link can view the document
To learn more, see: Share your PDF via Share Link or Public URL
Email as Attachment
DocHub's "Email as Attachment" features lets you send outbound emails with your document attached as a PDF.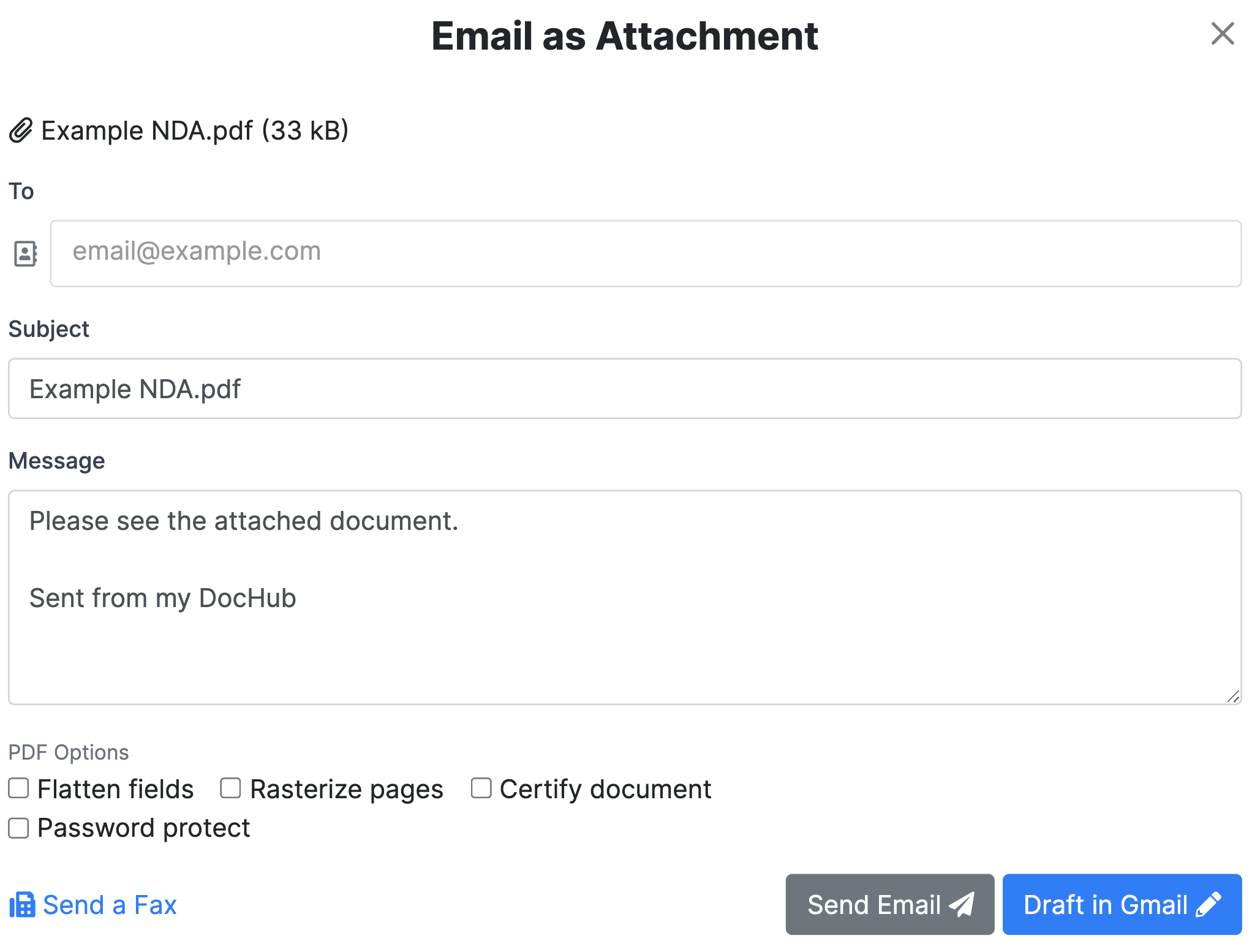 For more information about sending your PDF as an attachment from no-reply@dochub.com or from your own Gmail address, see: Send your document via email as a PDF attachment
Send a fax
You can send the current version of any document as a fax by going to:
Menu -> Send -> Fax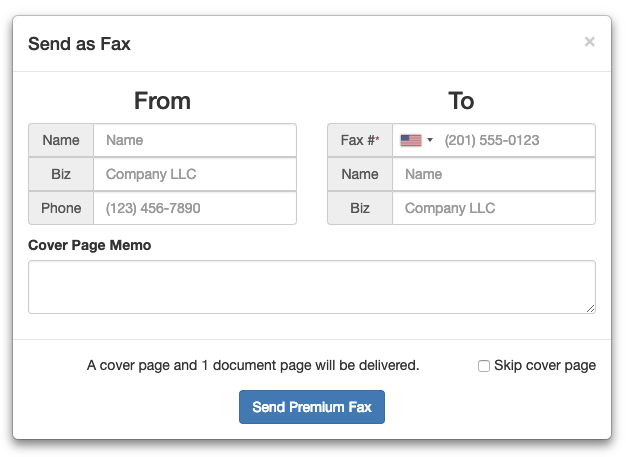 After sending the fax, you'll be notified of its delivery status by email. Additionally, outbound fax status can be viewed from your fax settings: https://dochub.com/settings/fax
For more information on sending a fax and pricing options, see: Send and receive PDF documents via fax