DocHub organizations allow users to:
Share documents amongst a group
Manage billing and subscriptions for multiple users
Send and manage Sign Requests, Templates and Documents from an organization
Create and manage a shared fax number
Create a custom branded theme that appears when viewing its documents and outbound emails
This article describes the process of setting up a new organization in DocHub.

To get started, navigate to:
DocHub > Settings > Organizations > Create Organization
Or go here: https://dochub.com/settings/organizations/new
Creating your organization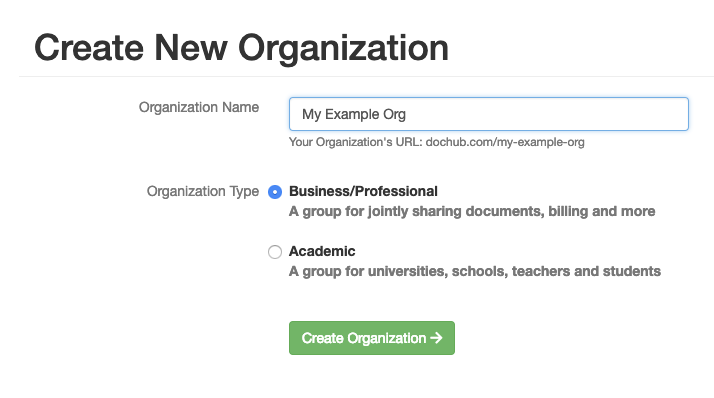 To create your organization, first enter its name.
The name will be used to create an initial value for your Organization URL (also referred to as DocHub domain, or organization slug). Don't overthink this though- you can change the Organization URL and Organization Name after completing the setup process as well.
Next, select whether or not it is a business or academic type. When you get to assigning roles to uses, business can assign users as Content Managers or Agents whereas alternatively, academic organizations can assign roles as Teacher or Students. Both organizations also have Owner and Admin role options.
For more info about organization roles see:
Organization Roles and Permissions
Add Users to Your Organization
You can invite members on the People page for your organization.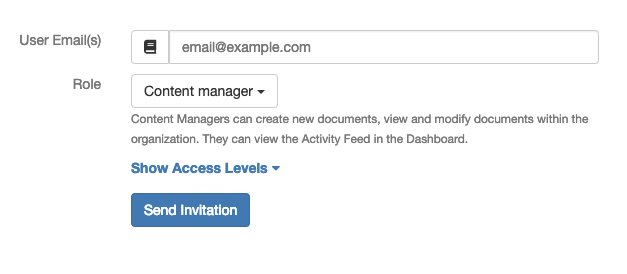 Just type the email address in the field for User Email(s), and you can enter multiple by separating the emails with a comma.

If you want to import your Gmail Address Book to enable type ahead (auto-complete), you can click on the book icon to the left of the email field.
Setup Organization Branding
Setting up an avatar and custom color features will be applied to documents owned by the organization as well as outbound emails that it sends.
Follow the instructions to upload an avatar and then tweak the custom branding options until you're satisfied with how the toolbar preview looks.
Click the Continue to proceed to the next step.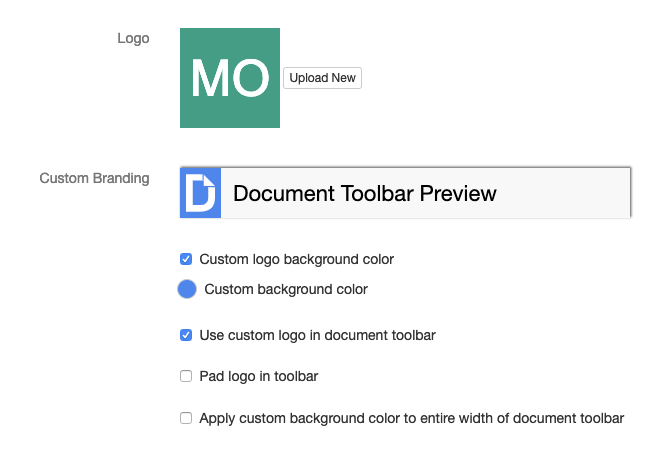 Add DocHub Pro or a Fax Line
If you'd like to extend the features of DocHub Pro or a DocHub Fax Line to the members of your organization, you can do so here. If you've already setup DocHub Pro for your personal account, you'll see the option to migrate it to a business account.
DocHub Pro for your organization is billed at the same rate per user as DocHub Pro for individuals. A significant advantage of adding or migrating Pro to your organization is that you can manage the entire groups billing and subscription settings in one place.
Click Add DocHub Pro or Migrate DocHub Pro to Group and then follow the steps to complete the creation of your organization. If you choose to opt out of DocHub Pro, click the Finish button.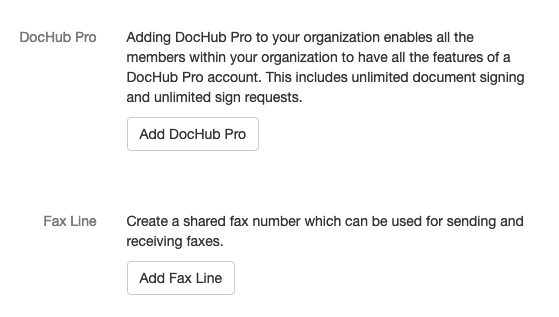 Managing Organization Settings
After completing the setup of your organization, you can add or remove users and manage subscription settings anytime. To use the following URLs, replace [your-organization-domain] with your organization's slug (aka: its DocHub domain). Alternatively, navigate by clicking through the site as described.
Organization Billing Dashboard
DocHub > your organization dashboard > settings > billing
dochub.com/organization/[your-organization-domain]/settings/billing

Manage or Edit DocHub Pro Subscription
DocHub > your organization dashboard > settings > billing > change plan
dochub.com/organization/[your-organization-domain]/settings/billing/update-plan

Organization People
DocHub > your organization dashboard > settings > people
dochub.com/organization/[your-organization-domain]/settings/people

Organization Faxing Dashboard
DocHub > your organization dashboard > settings > fax
dochub.com/organization/[your-organization-domain]/settings/fax